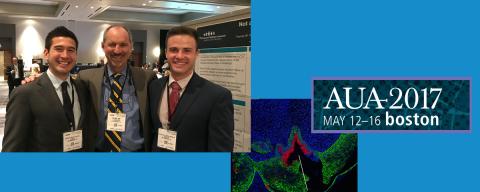 Baskin Lab members Tom Gaither and Dylan Issacson showed their dedication to the field of pediatric urology during the recent American Urologic Association annual meeting 2017 held in Boston, Ma. As they begin to shape their careers, the presentation of posters, abstracts and podium discussions at the AUA lays an important foundation.
Tom Gaither presented his work under Principal Investigator, Laurence Baskin, MD on Multicystic dysplastic kidney (MCDK). MCDK is a condition that results from the malformation of the kidney during fetal development. The kidney consists of irregular cysts of varying sizes. Multicystic dysplastic kidney is a common type of renal cystic disease, and typically detected on prenatal sonography. The project was a retrospective review of children with MCDK and determine the natural history of contralateral kidney hypertrophy, which is a marker of renal health. He also worked with Hillary Copp, MD, MS on a retrospective review identifying missed opportunities to decrease CT scans in children with renal trauma. Gaither additionally presented two other projects for urologic trauma and reconstruction in his work with Benjamin Breyer, MD, MAS.
Dylan Issacson gave an abstract at the Society for Pediatric Urology Annual Meeting entitled "The Male Urethral Phenotype in Human Genital Xenografts is Androgen-Dependent and Inducible". The talk was one of four nominated for "Best Basic Science Abstract" of the meeting. Drs. Baskin and Cunha served as mentors for the project where they took developing male and female human fetal external genital specimens and grafted them into immunocompromised mice under three different hormonal conditions - androgen (DHT), estrogen (DES) and no hormones. They found that female grafts grown in androgenic conditions formed a tubular urethra and up-regulated expression of the androgen receptor at the point of urethral fold fusion as is normally seen in males whereas male grafts grown in estrogenic or hormonally absent conditions did not form a tubular urethra and down-regulated androgen receptor expression as is normally seen in females. The success of this model will enable further experiments into whether endocrine-disrupting substances can cause the phenotypes and gene expression patterns seen in human hypospadias.
He also presented a poster at the Engineering and Urology Annual Meeting entitled "The Use of LithoVue(TM), a Disposable Flexible Ureteroscope, Reduces Scope Reprocessing Time and Technologist Labor" under the mentorship of UCSF Urologists In this work, conducted with Tom Chi, MD and Marshall Stoller, MD.
"Dr. Baskin made a point to attend all of my and Tom Gaither's talks," says Issacson, "even when they bookended the full span of the meeting, to make sure we felt supported in our presentations. Drs. Chi, Breyer and Copp also went out of their ways to support Tom and me in our work."